In the face of unpredictable storms, ensuring the safety and comfort of our homes becomes essential. If you're looking to stay safe during hurricane season, investing in a whole home backup generator is one of the best ways to maintain your home's stability.
Understanding how to use a backup generator for homes, how to find the right model and how to prepare for hurricane season will help keep your family safe. Invest in a quality whole home backup generator to maintain greater peace of mind during stressful situations.
What Is a Whole Home Generator?
Whole home backup generators are a permanent backup power supply wired directly into your home's electrical system. These backup generators automatically detect power outages and switch on to provide electricity during an outage. Unlike portable generators, which require manual setup and fueling, whole home backup generators are seamlessly integrated into the home's infrastructure, making them both reliable and convenient. Whole home generators are often powered by natural gas or propane, ensuring a continuous fuel supply without the need for refueling.
Is a Whole Home Generator Worth It?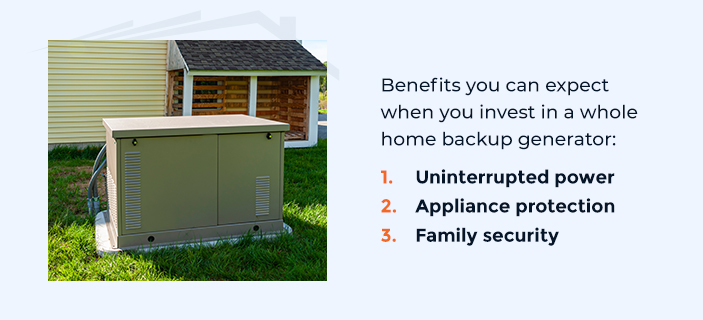 Home generators have many benefits for you, especially in the face of hurricane season and the potential power disruptions it brings. If you live in an area where hurricanes are common, investing in a whole home backup generator can protect you from power outages. You'll stay comfortable at home and be able to preserve valuable items that need power to function. Here are some of the benefits you can expect when you invest in a whole home backup generator:
Uninterrupted power: One of the most significant advantages of whole home backup generators is their ability to provide continuous power during hurricane- and severe weather-induced blackouts. When a storm knocks out the power grid, these generators kick in immediately, keeping lights on, refrigerators running and crucial medical devices functional.
Appliance protection: Power outages can wreak havoc on appliances and electrical devices. When power is suddenly restored after an outage, it can cause a surge that damages sensitive equipment. With a backup generator, appliances remain connected to a steady power source, minimizing the risk of damage.
Family security: Hurricane season comes with uncertainty and a need for families to stay indoors. You should buy a generator for hurricane season if you want to ensure essential systems like security alarms, surveillance cameras and communication devices remain operational. Having these resources will contribute to a sense of security during challenging times.
What Type of Generator Is Best for Home Backup?
The best home generator for an emergency is a standby generator. While portable generators are cheaper than standby models, they don't offer the same benefits and convenient power. Standby units feature automatic startup and come in various sizes so you can choose whether to power your entire home or specific circuits. They also offer higher power capacities than most portable generators. You'll need dedicated installation space to accommodate your standby generator, but once it's installed, you can rely on it for years.
How Long Can a Whole Home Generator Run?
The uptime of your whole home generator depends on several factors — fuel capacity, load demand and fuel availability will all influence your generator's maximum run time. Standby generators are designed to provide extended backup power for a set period, typically ranging from 24 to 48 hours or even longer. The specific run time will vary based on size, fuel type and the load the generator is supporting.
Generators with larger fuel tanks or those connected to a continuous fuel supply like natural gas lines can run for a more extended period. However, continuously running a generator at full load can deplete fuel faster.
To maximize run time, it's important to manage power usage efficiently during an outage. Prioritize essential appliances and systems and consider energy-saving measures to reduce overall demand. Regular maintenance, fuel level monitoring and having additional fuel on hand can also extend the generator's operational time.
Keep in mind the generator's actual run time can vary widely depending on the circumstances. You should consult the manufacturer's specifications or ask your generator technician to calculate the expected run time based on your household's power needs and the model you chose.
How to Choose a Generator for Hurricane Season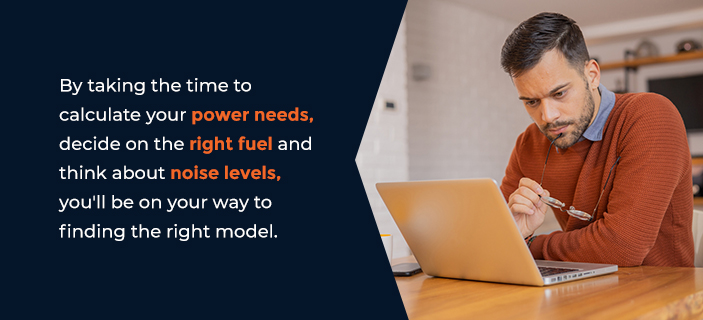 When choosing the best home backup generator, a few key factors can make a big difference in how well it works for you during hurricane season. Consider these factors to help you figure out how to choose a home backup generator:
Calculate Power Needs
Before you decide on a generator, it's wise to figure out how much electricity your home needs — this helps you determine what size generator you need for a hurricane or other catastrophic event. Make a list of the essential devices you want to keep running during a power outage. This could include things like your fridge, air conditioning and heating, medical devices, and phone chargers. Add up how much power each device uses — this will give you an idea of how powerful your generator needs to be. With the right generator, you'll have enough power to keep everything running smoothly.
Assess Fuel Options
Generators need fuel to work. You can choose from different fuel types — propane, natural gas and diesel — based on which is most convenient for you. Propane and natural gas are often easier to maintain since they tend to be readily accessible. Diesel is more common in portable generators. The best whole home generator will be the one that works with your fuel budget and access. Talk to your generator technician for assistance finding the most efficient fuel for the job.
Evaluate Noise Levels
While whole home backup generators are much quieter than portable generators, all generators make noise when they run. Some are louder than others. If noise bothers you, make sure to choose a quieter model. Also, think about where you'll put it — your generator should be in a well-ventilated area, away from windows and doors, so the fumes don't get inside. You'll want to be sure the noise doesn't bother your neighbors either, so take care not to put it too close to their homes.
Whole Home Backup Generator Installation
Getting a whole home generator is a smart move for hurricane preparedness, but making sure it's installed correctly is just as important. Even the best home emergency generator can't work if it isn't set up properly. You'll enjoy your generator for longer and get the most out of your investment when you ensure it receives the correct care. Here's a closer look at why the proper installation and maintenance matter:
Hiring Professionals vs. DIY Installation
When setting up your backup generator, you have a choice between hiring professionals or doing it yourself. While DIY might seem tempting to save money, it's much wiser to get professionals on board. An experienced technician will know the ins and outs of generator installation, ensuring it's done safely and according to local regulations. They will also know how to connect the generator to your home's electrical system correctly, reducing the risk of electrical problems.
Ensuring Compliance With Local Regulations
Safety should be a top priority when installing and using a backup generator. Local regulations and safety standards exist to protect you, your neighbors and the environment. Professionals know these rules inside and out and can make sure your generator system follows them to the letter. A safe, compliant installation includes proper placement to prevent exhaust fumes from getting indoors and secure connections to prevent accidents. Observing these guidelines ensures your safety and allows you to avoid potential legal issues.
How to Maintain Your Generator
Regular maintenance is the backbone of ensuring your generator functions flawlessly when needed. Proper upkeep will extend your generator's life span and guarantee its reliability during critical moments, so understanding how to maintain your generator will save you time, money and stress. Here are some home generator maintenance tips:
Perform a visual inspection: Regularly check your generator for dust, leaves, debris and damage to prevent performance issues. This sort of buildup will impact generator efficiency and life expectancy, potentially leading to failures during power outages. Keep your generator clean and check for problems that need fixing before emergencies happen.
Maintain fuel: Fuel quality deteriorates over time, so it's important to perform periodic checks and fuel replacements to prevent clogs and ensure consistent operation. Maintaining an adequate fuel supply is vital, especially during hurricane season when fuel shortages are a possibility.
Change oil and filters: Change your oil and filters as the manufacturer recommends. Old filters and oil can impact operation and efficiency, preventing your generator from working effectively.
Test regularly: Regular generator tests confirm the generator starts promptly and transfers power seamlessly. Additionally, a test will tell you if your generator needs servicing, letting you catch problems before emergencies strike.
Use professionals: Enlisting professional maintenance services offers you peace of mind. Technicians can detect issues that might go unnoticed, ensuring your generator is in optimal condition. Timely repairs prevent minor problems from turning into significant malfunctions during emergencies.
Preparing for Hurricane Season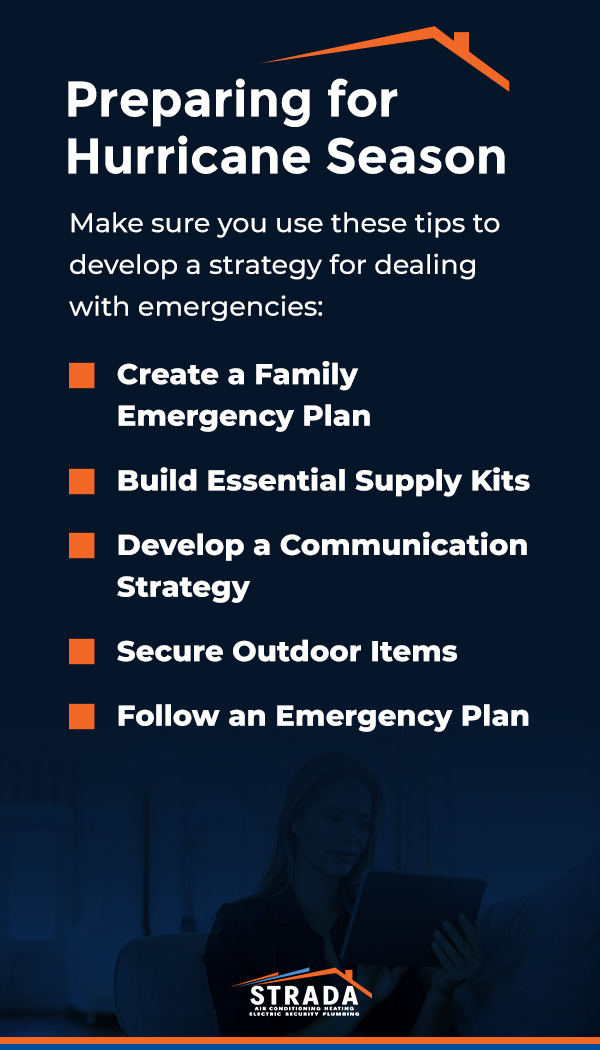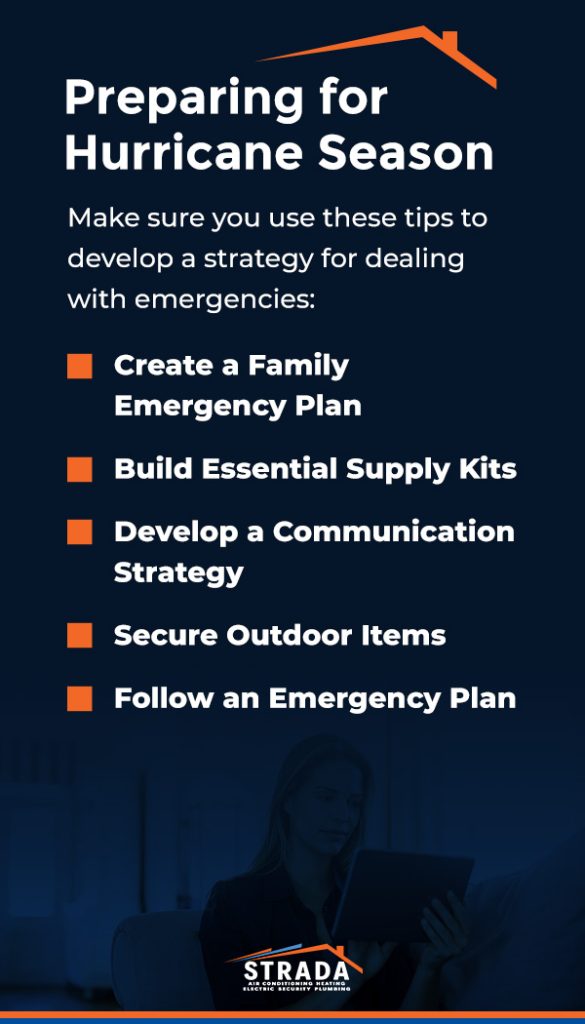 As hurricane season approaches, proactive preparation becomes essential to ensure the safety and well-being of your family and property. A comprehensive plan covering the basics of emergency situations can make all the difference when navigating a hurricane's challenges. Make sure you use these tips to develop a strategy for dealing with emergencies:
Create a Family Emergency Plan
Developing a clear and concise family emergency plan is the foundation for hurricane preparedness. Identify safe areas within your home, establish evacuation routes and determine where family members will gather in case of separation. Assign responsibilities to each family member to streamline the plan's execution. Finally, review everything at the beginning of hurricane season so everyone knows what to do.
Build Essential Supply Kits
Your emergency plan needs to include supply kits. These kits cover basic necessities for several days, allowing you to have quick access to essentials during an emergency. Include items like nonperishable food, drinking water, medications, flashlights, batteries, clothes, first-aid supplies and personal hygiene items. Keep the kits in an easily accessible location and ensure that all family members know where they are and what's in them. Having these at the ready will allow you to leave quickly if needed.
Develop a Communication Strategy
Effective communication during a hurricane is crucial. Ensure every family member has access to fully charged cellphones and a list of important contacts. Investing in battery-operated or hand-crank emergency radios is also helpful to receive updates and information from authorities. Backup generators will help keep your house comfortable during an emergency, but bear in mind that you may have to leave at some point. If that should happen, you'll want to have a communication plan in place.
Secure Outdoor Items
Before a hurricane hits, secure or bring any outdoor furniture, equipment or potentially hazardous items indoors. Strong winds can quickly pick up loose items and fling them around, causing significant damage. Reinforce windows and doors to withstand the storm's force, and if you have time, trim any nearby trees and shrubs to minimize the risk of falling branches.
Follow an Emergency Plan
If authorities issue evacuation orders, be prepared to leave your home quickly. Have a destination in mind, whether it's a relative's house or a hotel outside the affected area. Pack a separate bag with essential items, important documents and valuables in case you need to evacuate quickly. Speed is critical during emergency situations — planning out as much as possible before the emergency begins will help keep you and your family safe.
Generator Readiness and Testing Before a Hurricane
A whole home backup generator can be a lifesaver during a hurricane-related power outage. However, its effectiveness depends on regular testing, maintenance and readiness procedures. Testing will help keep your generator working smoothly so it can provide power when you need it most. When hurricane season begins, test your generator to make sure you're prepared for an emergency. Follow these tips to keep your generator ready for any circumstance:
Regular testing: Routine backup generator testing ensures your unit is functioning correctly and able to kick in when needed. Schedule regular test runs a few times a year to verify the generator starts up, transfers power and operates without issue. This practice also helps identify any maintenance needs before they become significant problems.
Fuel stockpiling: Fuel supply is crucial for your generator's operation. Make sure you have sufficient fuel stored safely and that it's regularly rotated to prevent degradation. Fuel availability can become a concern during hurricane season, so having extra on hand is wise.
Timely maintenance: Address any maintenance needs promptly. Regularly inspect the generator, fuel lines and other components for signs of wear or damage. Maintain a schedule for oil changes, filter replacements and other recommended maintenance tasks as specified in the manufacturer's guidelines.
Protect Your Home With Generac Generators From Strada Services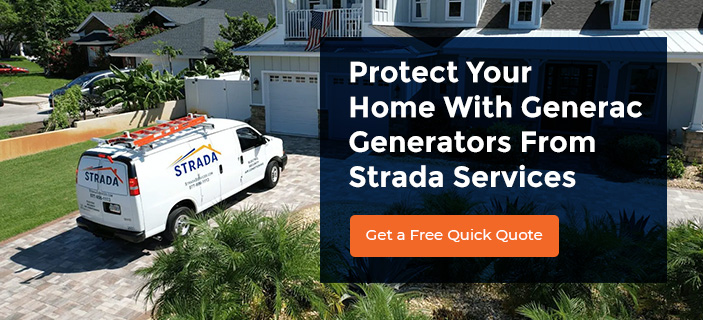 Stay prepared for hurricanes with advanced backup generators from Strada Air Conditioning, Heating, Electric & Security. Secure your family's comfort and safety during power outages with our reliable generator solutions and expert installation services.
Don't let storms catch you off guard — take action now to ensure uninterrupted power when you need it most. We carry an extensive range of generator options so you can take the first step toward safeguarding your home and loved ones. Reach out for a quick online quote on a generator to learn how Strada Services can empower you with peace of mind in the face of uncertainty.