Electrical maintenance plays a role in ensuring a residential electrical system's safety, functionality and longevity. For homeowners, it involves a series of preventive measures, inspections and repairs to address potential issues, minimize risks and optimize the performance of electrical components and equipment. If you are curious about how maintenance can benefit you and what maintenance of electrical equipment is, this article will answer those questions.
Electrical maintenance for homeowners encompasses a range of tasks beyond everyday electrical usage. It involves regular checks, professional assessments and proactive measures to ensure the electrical system is in optimal condition, compliant with safety regulations and capable of meeting the household's electrical demands.
What Is Electrical Maintenance Work?
The objectives of electrical maintenance go beyond mere functionality. As a homeowner, prioritizing electrical maintenance offers a range of benefits that contribute to the safety and longevity of your home's electrical infrastructure:
Ensuring safety and compliance: The primary objective of electrical maintenance is to ensure your home and family's safety. Regular inspections allow electrical maintenance professionals to identify potential hazards, such as faulty wiring, loose connections or outdated components.
Preserving the longevity of your electrical system: Another objective of electrical maintenance is to maximize the life span of your electrical equipment and components. Well-maintained electrical systems tend to operate more efficiently, experience fewer breakdowns and have an extended service life.
Improving energy efficiency: By optimizing your electrical system's performance, you reduce energy waste and lower your electricity bills. Regular maintenance tasks, such as cleaning air conditioning condenser coils, checking insulation and calibrating thermostats, contribute to improved energy efficiency. Electrical maintenance professionals can also recommend energy-saving upgrades.
Reducing the risk of electrical failures: Electrical maintenance aims to identify and address potential issues before they lead to electrical failures. By implementing predictive maintenance techniques, professionals can detect early signs of equipment deterioration or impending failures. This proactive approach enables timely repairs or replacements, minimizing the chances of unexpected breakdowns and the inconvenience they cause.
Electrical load assessment: Periodically assess your home's electrical load, especially if you've made significant additions or changes to your electrical system or if you're experiencing frequent circuit overloads. An electrician can evaluate the overall electrical demand and recommend any necessary upgrades or modifications to accommodate increased loads and prevent electrical issues.
Surge protection: Power surges can threaten sensitive electronic devices and appliances. Installing surge protection devices, such as surge protectors or whole-house surge suppressors, can safeguard your equipment from voltage spikes caused by lightning strikes or electrical disturbances.
Outdoor electrical maintenance: If your home has outdoor electrical components, such as lighting fixtures, outlets or irrigation systems, they also require maintenance. Ensure outdoor outlets and wiring are properly weatherproofed, clean outdoor fixtures of debris and dirt and inspect and repair any damaged outdoor electrical components. Regular maintenance of outdoor electrical elements ensures their durability and safe operation.
Common Types of Residential Electrical Systems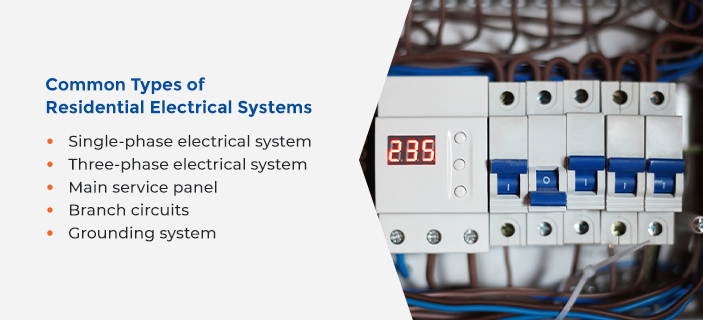 Residential electrical systems come in various configurations, each designed to meet a home's specific needs. Understanding the common types of electrical systems can help homeowners comprehend their electrical setup's components, distribution and capacity:
Single-phase electrical system: The single-phase electrical system consists of a single alternating current (AC) waveform and is used for smaller households with standard electrical loads. Single-phase systems provide power to lighting, appliances and outlets throughout the home.
Three-phase electrical system: Three-phase electrical systems are found in larger residential properties or commercial buildings with higher electrical demands. These systems distribute power through three alternating currents that are out of phase with each other. Three-phase systems offer higher capacity and are suitable for homes with extensive electrical needs, such as large HVAC systems, high-powered equipment or electric vehicle charging stations.
Main service panel: Regardless of the type of electrical system, every residential setup includes a main service panel, also known as the electrical panel or circuit breaker panel. This panel is the central hub that receives power from the utility provider and distributes it throughout the home.
Branch circuits: Branch circuits are individual electrical circuits that deliver power to specific areas or appliances within the home. These circuits originate from the main service panel and are protected by circuit breakers or fuses. Each circuit is dedicated to a particular area, such as lighting, kitchen or bedroom outlets and has its own capacity rating based on the expected load.
Grounding system: The grounding system provides a safe path for electrical currents to flow into the ground in the event of a fault, preventing electrical shocks and reducing the risk of catastrophic events. Grounding is achieved through a network of grounding wires and rods that connect various electrical components, including outlets, appliances and the electrical panel, to the earth.
Components of Electrical Maintenance
Electrical maintenance for homeowners consists of several components that work together to ensure the reliability and safety of the home's electrical system. Take proactive measures to prevent potential issues and maintain a smooth-running electrical infrastructure, such as:
Regular Inspections: Homeowners should visually inspect their electrical system, looking for signs of wear, damage or loose connections. Additionally, scheduling inspections by licensed electricians can help identify hidden problems and potential hazards that may not be apparent to an untrained eye.
Cleaning and dusting: Over time, electrical components can accumulate dust, dirt and debris, which can interfere with their performance and potentially lead to overheating or electrical malfunctions. Regularly cleaning equipment can help maintain their efficiency and prevent issues caused by dust buildup.
Tightening connections: Loose electrical connections can cause intermittent power disruptions or overheating. Remember to exercise caution and turn off the power supply before attempting any repairs or adjustments.
Testing and calibration: Verifying the proper functioning of electrical equipment involves testing outlets, switches, circuit breakers and other components to ensure they are operating as intended. Calibrating devices such as thermostats or voltage regulators can help maintain accurate readings and optimal performance.
Replacing outdated components: As technology advances and electrical codes change, specific electrical system components may become outdated or noncompliant. Upgrading or replacing outdated equipment, such as electrical panels, wiring or switches, is essential to electrical maintenance. Contact a professional to give you a quote.
Enhancing Your Home's Electrical System with Electrical Remodeling
During a routine inspection, your electrician professional might suggest a complete update. Electrical remodeling involves upgrading or modifying the electrical system to meet your household's changing needs, enhancing functionality and ensuring compliance with safety standards. Remodeling includes the following services:
Consulting with an electrician: Engaging the expertise of a licensed electrician can provide valuable insights and guidance on code compliance, electrical layout, load calculations and wiring requirements.
Rewiring and circuit upgrades: Depending on the extent of the remodeling project, rewiring or circuit upgrades may be necessary. This involves replacing old or inadequate wiring with new wiring, ensuring proper capacity to support the increased electrical demand of the remodeled space. Upgrading circuits may also involve installing additional circuit breakers and distribution panels.
Placement of outlets and switches: During electrical remodeling, careful consideration should be given to the placement of outlets, switches and lighting fixtures. Ensuring convenient and adequate placement of outlets and switches enhances functionality and allows for efficient use of electrical devices and appliances in the remodeled area.
Lighting design and installation: Electrical remodeling presents an opportunity to create a well-designed lighting scheme that suits your needs and complements the overall aesthetic of the remodeled area. Working with an electrician or lighting designer can help you select appropriate fixtures, control options and energy-efficient lighting solutions.
Tools and Techniques Used in Electrical Maintenance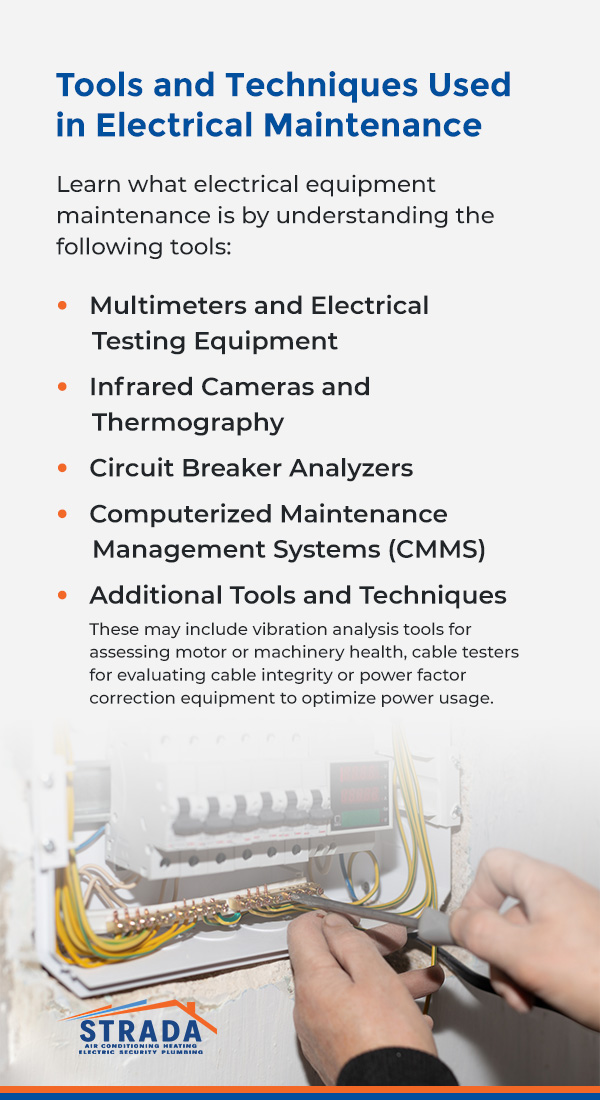 Electrical maintenance professionals rely on various specialized tools and techniques to effectively inspect, diagnose and maintain residential electrical systems. These tools help professionals identify potential issues, measure electrical parameters and carry out necessary repairs or replacements. Learn what electrical equipment maintenance is by understanding the following tools:
Multimeters and Electrical Testing Equipment
Multimeters are tools used to measure voltage, current and resistance. These devices help electricians troubleshoot electrical problems, test circuits and verify the integrity of connections. With the ability to measure Alternating Current (AC) and Direct Current (DC), multimeters provide valuable information for assessing electrical components' health and performance.
In addition to multimeters, electrical maintenance professionals may utilize other specialized testing equipment such as insulation resistance testers, ground resistance testers or power quality analyzers. These devices offer more specific measurements and assessments, allowing for comprehensive evaluations of electrical systems.
Infrared Cameras and Thermography
Infrared cameras and thermographic inspections detect hidden or abnormal heat patterns. These noncontact devices capture infrared radiation emitted by objects, helping professionals identify potential issues such as overloaded circuits, loose connections or faulty components. By identifying abnormal temperature variations, electrical maintenance experts can address problems before they lead to electrical failures or other hazards.
Circuit Breaker Analyzers
Circuit breaker analyzers test and evaluate the performance of circuit breakers. These devices measure parameters such as contact resistance, timing and insulation integrity. By analyzing the data obtained from circuit breaker tests, electrical maintenance professionals can assess the reliability and efficiency of these crucial protective devices. The analysis also allows for proactive maintenance, ensuring circuit breakers function correctly and providing effective protection against overcurrent or short circuits.
Computerized Maintenance Management Systems (CMMS)
Computerized Maintenance Management Systems (CMMS) are software solutions that facilitate managing and organizing maintenance tasks. These systems help electrical maintenance professionals track maintenance schedules, record inspection results and manage work orders. CMMS platforms also enable data analysis, identifying trends, equipment performance metrics and maintenance history.
Additional Tools and Techniques
Beyond the mentioned tools, electrical maintenance professionals may employ additional instruments and techniques based on specific needs. These may include vibration analysis tools for assessing motor or machinery health, cable testers for evaluating cable integrity or power factor correction equipment to optimize power usage. The choice of tools and techniques depends on the system's complexity, the type of equipment involved and the maintenance objectives.
Importance of Professional Electrical Maintenance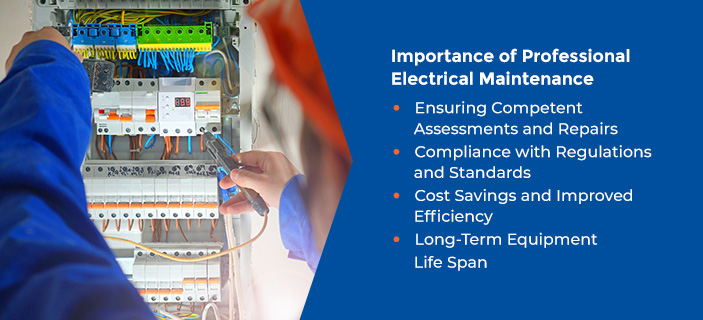 While some homeowners may attempt do-it-yourself approaches, the expertise and knowledge of qualified professionals bring many benefits. Experts and trained professionals understand what electrical preventive maintenance can do for a homeowner. Professional electrical maintenance provides invaluable advantages for homeowners, from ensuring safety and compliance to optimizing efficiency and minimizing risks.
Ensuring Competent Assessments and Repairs
Professional electrical maintenance involves experienced electricians with in-depth knowledge of electrical systems. These professionals undergo training and certification processes, equipping them with the expertise to effectively identify, diagnose and resolve complex electrical issues.
By engaging qualified personnel, you can have confidence that your residential electrical system is handled by professionals who understand the intricacies of electrical components, codes and safety regulations.
Compliance with Regulations and Standards
Residential electrical systems are subject to safety regulations and standards established by local authorities and regulatory bodies. Professional electrical maintenance helps ensure your home's electrical system complies with these requirements.
Electricians stay updated on the latest codes and regulations, ensuring your electrical system meets safety standards. Adhering to these regulations reduces the risk of electrical hazards, potential fines or insurance complications.
Cost Savings and Improved Efficiency
Professional electrical maintenance contributes to cost savings and improved efficiency in several ways. First, identifying and rectifying issues early can prevent potential breakdowns or failures. What preventive maintenance in electrical means is this proactive approach will aid you in avoiding costly emergency repairs or replacements.
Second, professional maintenance optimizes the performance of your electrical system, enhancing its efficiency and reducing energy waste. By inspecting and tuning equipment, identifying energy-saving opportunities and implementing efficient solutions, professionals help you conserve energy and lower your electricity bills.
Long-Term Equipment Life Span
Professional maintenance extends the life span of your equipment by conducting regular electrical inspections, cleaning and preventive maintenance tasks. Properly maintained electrical components experience less wear and tear, reducing the need for early replacements and costly upgrades.
Investing in professional electrical maintenance demonstrates your commitment to safety, efficiency and your home's long-term well-being.
Learn About Our Electrical Services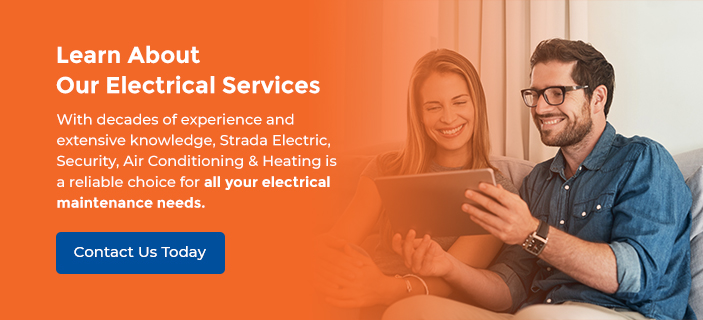 With decades of experience and extensive knowledge, Strada Electric, Security, Air Conditioning & Heating is a reliable choice for all your electrical maintenance needs. We offer a range of services that ensure your home's electrical infrastructure's safety, efficiency and functionality. The following is what is included in electrical preventive maintenance:
Air conditioning: One of the services provided by Strada Electric, Security, Air Conditioning & Heating is air conditioning and heating installation and servicing. Their team can help you stay comfortable year-round by installing and maintaining air cooling and heating systems in your home.
EV charging station: If you're considering going green with an electric vehicle, Strada Electric, Security, Air Conditioning & Heating is well-equipped to install a powerful EV charging station. We understand the unique electrical requirements for charging electric vehicles and can provide a safe and efficient solution.
Installations: For various electrical installations, such as remodeling projects, ceiling fans, backup generators or other wiring needs, you can rely on Strada Electric, Security, Air Conditioning & Heating. Their expertise ensures that the electrical installations are done correctly and efficiently.
Our team is ready to assist with prompt electric repairs when electrical issues arise, providing peace of mind and resolving malfunctions effectively. We also specialize in panel upgrades and replacement. Upgrading your electrical panel not only improves the safety of your home but can also lower insurance premiums, reduce the risk of power failures and increase the value of your property. Inquire about what is included in residential electrical preventive maintenance from Strada Electric, Security, Air Conditioning & Heating.
Call us or schedule an appointment today to ensure your residential electrical system's optimal performance and safety.